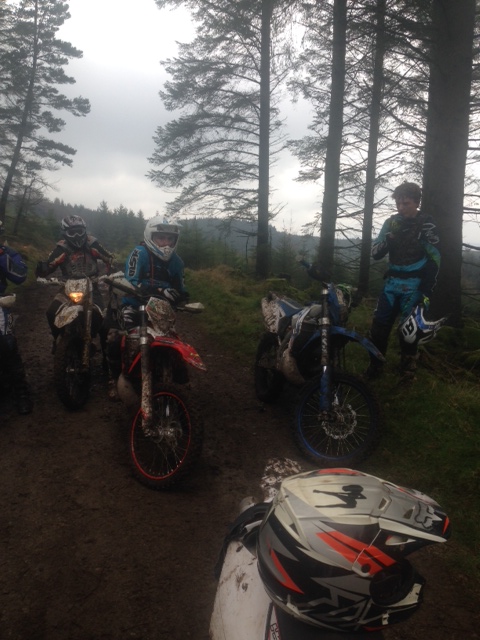 A week ago the track at Ballinderry wood was in prime condition, sunny and dry underfoot. A week is a long time and a week of rain turned the route into reasonably difficult conditions for all but particular the Clubman and Sportsman classes. Slippery climbs and downhills made life hard and all those who finished are to be congratulated.
It was a good if not easy enduro, well-marked and the bad bits cut out or modified as needed. Job well done by Alan Leckie and crew.
Five laps for Experts, Seniors, four for Clubmen and 3 for Sportsmen. Four, three and two tests on a long and at times technical test.
AT time of writing we only have provisional times and therefore our results are not complete or necessarily correct.
Our event preview was not too far off the mark in terms of winners.
Charles Stuart (TM 250) from Ballycastle Co. Antrim winner of the Hare and Hound 2 weeks ago was the fastest of the Experts and overall winner (provisional) of the event. Close behind and showing excellent speed and consistency was Local rider David Mc Nulty (250 BETA), followed in 3 RD by another young MX turned enduro rider Stepnen Smith (250 HVA). Expected to be in the shake-up, Ray Tolan (144 Tm) and Paul Mc Carthy (250 KTM) were both late absentees due to injury.
AS a footnote to the Experts it is good to see some new young riders in the class this season and it is already shaping up to be very competitive. Stuart, Smith, Mc Nulty and Regan add much to this class for 2014.
Dave Mc Mahon (250 KTM) took the honours in the Senior class but was pushed all the way by Paul Walsh (250 KTM) and Dave Darcy (250 TM) all showing some consistency and pace.
The Clubman class was even closer with Phillip Jones, William Thompson and JP Ryan separated by no more than 58 seconds for 1st, 2nd and 3rd on test times. No penalties added to date.
Given that a high proportion of Sportsmen finished (well done), Gavin Ryan, Keith Farrell and Vincent Dooley filled the top 3 places on test times.
WE will issue full results when they are to hand and approved.
Thanks from The TORC club to all helpers and crew and all riders.
Ballinderry test times only … no penalties:
Ballinderry 14 test times only