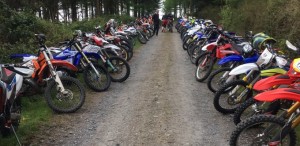 Sunday the 15th April, sees the opening round of the Enduro season ; held at Whitemountain this event snakes its way through the forests of Wexford and uses the beautiful and rocks walking trails over the mountains. The scenery from the top is worth the ride up. The event also contains arguably the seasons best test a long natural run joining the two sides of the forest .
New season , new bikes and lots of riders waiting for the GO ; new riders to the sport , riders in different classes following regrading.  Its sure to be busy and COC Collie will always put in the effort to lay out a great route. WE can only hope the weather will be kind.
Regulations and on line entry on TORC IRELAND site.
Enduro.ie