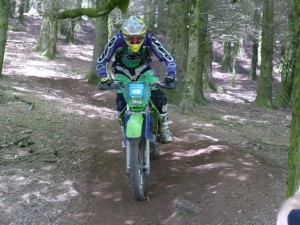 Held under clear sun filled skies and at the beautiful TINODE setting Round 2 of the Fastlane Longcross Series proved a great success ; good participant entry including youths and close racing in every class kept spectators and riders alike happy. Back at the Blessington venue following  a two year absence the club thanks to the landowner Sean Blake, Dermot Phibbs and again to Jimmy Jones, Robbie, Finton, Dennis, Kevin Reid, Mark MCE  working tirelessly to prepare an 8 minute lap that included a perfect mix of Grasstrack, Forest and MX quarry that riders appeared to approve.
Once again the Vets O'40 class proved to be the best entry numbers with Seamie Hayes once again proving that you can win on a 25 Year old Bike, this time with the old KDX popping in complaint. Race long battles with Alan Dennis and Steve Bagnall kept everyone on their toes.
In the experts Steve Smyth having won every round of every event this year appeared to be on a double win again, taking leg one not too far off Mervyn Griffin but in leg two motocrosser Dylan Stynes found speed and rhythm closing and passing Steven at ¾ distance to run out a clear winner with Angus Leonard looking sharp slotting in third.
Oisin Roe was the steady man in the Clubman finish in 2nd in both legs slotting Jonny Podonyi first in leg one and Danny Jarzebinski in leg 2 both alternating from 3rd to 1st. Good riding there.
A definite rejuvenated rider Keith Clarke was gone and away in the Clubman Leg 1 and likely in leg 2 where wire in his wheel slowed his progress where Krzysztof Misiewicz took the leg 2 honours Shay Furlong, Sean Doherty and Greg Niemiec mixing the 2nd to 3rd around.
Cork Youngster Adam Murphy had impressive times in the sportsman taking both legs ; Tom Brennan, Dariusz Magalisnki in order behind .
Youths 85 alternated between Mick Doyle, Joe MCGirr  and Chris Kaulins in legs with Jamie Whelan, Calum Fitzpatrick and Harvey Lee running in behind.
Kevin Reid with very impressive times topped both 125/ 250 legs with Lee Darcey and Josh Keogh fighting race long for the final two podium places.
All in all some impressive riding by everyone with the standard seeming to improve ….. there are no slow riders so well done to all.
Posts are based on provisional results.
Photos thanks to Kevin Hayes / HP John.
Enduro.ie