Its ready steady go as Angus takes top spot in an exciting season opener.
One hundred and fifty riders, a 10 KM typical Tinahealy forest loop, 3 leaders and a win on the final lap made for a fantastic start to the 22 Enduro season; the first real event for 2 years. The Torc club workers did their usual excellent job in marking out the loop, cutting fallen trees; draining the wash outs then adding the timing. The elements were kind with forecast rain holding station until the 3 hours were up.
Multi – lap events with fuel stops make it difficult to track the leaders; from the off Reece Gazzard   (a very handy trials rider turned Enduro) opened the lap and lead from Ian Marshall, Killian Callaghan (of mountain bike fame) Jamie O'Keefe ( superbike rider turned Enduro) Dillan Stynes ( MX rider) with Angus Leonard ( Enduro rider ! ) back in the pack . Angus was to work his way up the order in conditions that made passing difficult running second before stopping a lap earlier than Gazzard or Marshall reversing the order when both pitted for fuel. Killian Callaghan was also impressively quick running to the front when all settled down after fuelling and holding a 30 second advantage starting the final loop from Angus Leonard. The latter put the hammer down to pass Killian and run out a 45 second advantage at the flag. It was good stuff, physically demanding on the rock-strewn route.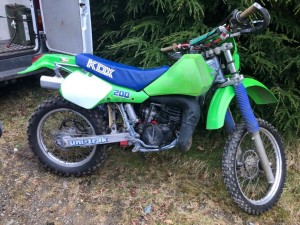 Jamie Cahill took the Senior class, Sean Maher the Clubman with Veteran Ciaran Hayes the Sportsman.
It has been possibly 30 years since such and entry was to be seen at an Enduro event …. 2 years of non-events have left riders champing to get out and ride. It is fantastic to see such an entry but it can also cause problems with Illegal riding in forests causing those same forests to be withheld as terrain for Bonafede events. That is happening now.
Congratulations to the riders and Club on a great day.
Enduro.ie