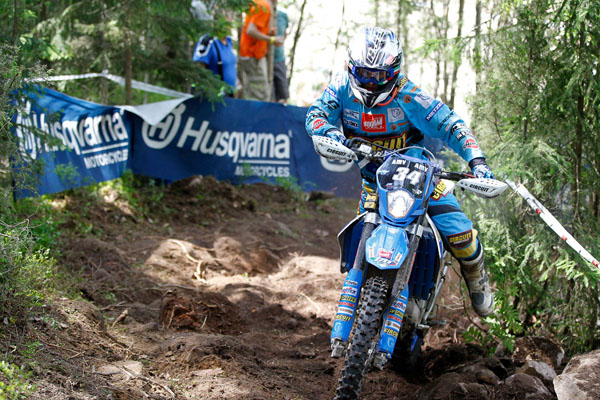 TM's Eero REMES secured an important home victory on day one at round four of the FIM Maxxis Enduro World Championship GP of Finland to take the top step of the Enduro 1 podium.  At the end of a tough and challenging opening day in Heinola there was also success for Pela RENET (Husqvarna) and Matt PHILLIPS (KTM) as they won their respective Enduro 2 and Enduro 3 categories. Danny MCCANNEY (Beta) returned to the top step of the Enduro Junior podium whileLaia SANZ (Honda) won the Women's Cup.
However, the biggest news from day one in Heinola was the early exit by Enduro 2 class leaderAntoine MEO (KTM). Despite nursing a broken thumb entering Heinola, the Frenchman was holding onto third position until a crash on the third enduro test forced him to retire.
After his victory in the super test, KTM's Christophe NAMBOTIN led early in the Enduro 1classification. But an on-form Eero REMES (TM) quickly took the fight to the Frenchman. Hungry to secure a home win, REMES battled back and forth with NAMBOTIN before eventually claiming the top step of the podium. "It's brilliant to win my home race," told REMES. "It took a couple of tests to get going but once I found my rhythm I fought hard with Nambotin and took the victory." Facing his toughest challenge of the series, NAMBOTIN finally conceded defeat to Remes when he crashed on the final enduro test and placed second. In the race to claim the bottom step of the podium, Spain's Cristobal GUERRERO (KTM) steadily worked his way clear of France's Anthony BOISSIERE (Sherco) to finish third. Italy's Thomas OLDRATI (Husqvarna) ended his day in fifth.
In the Enduro 2 class France's Pela RENET (Husqvarna) secured a start-to-finish victory. Intent on capitalising on MEO's injury, RENET did exactly that and stormed ahead to record a convincing win. "It's been a good day, I had no major problems and I'm happy to win," commented RENET. "But it's also disappointing to see Antoine start with an injury and then crash out. I was hoping for another good battle with him. I hope he's ok."  Behind RENET the fight for the final two spots on the podium was played out between MEO and Italy's Alex SALVINI (Honda) until the Frenchman crashed out. With a good cushion over the chasing Johnny AUBERT (Beta), SALVINI placed second. Benefitting fromMEO's early exited, AUBERT improved one position to take third. Delivering his best ride of the series to date, Spain's Lorenzo SANTOLINO (Sherco) ended his day two tenths shy of a podium result in fourth while Oriol MENA (S-Beta) completed the top five.
Claiming his second victory on the bounce, Australia's Matt PHILLIPS (KTM) led home theEnduro 3 class on day one. Highly motivated following his win last time out at the GP of Greece,PHILLIPS secured an important victory over point's leader Ivan CERVANTES (S-KTM). "It feels to great to get another win in the bag," smiledPHILLIPS. "I'm beginning to find my feet in this class. I felt comfortable with my speed and didn't make any real mistakes that cost me a lot of time." On damage limitation duty following his ankle injury from Greece, CERVANTES dug deep to stay within range of PHILLIPS. Holding off the hard charging Finn Matti SEISTOLA (Sherco),CERVANTES secured a much needed runner-up result. Unable to split the KTM duo, SEISTOLA had to settle for third. France's Mathias BELLINO (Husqvarna) had a lonely ride for fourth while Portugal's Luis CORREIA (Beta) recorded another top five result in fifth.
Returning to the top of the Enduro Junior rankings, Britain's Danny MCCANNEY (Beta) claimed a confident race win on day one in Heinola. Just off the pace set by McCanney, it was France's Loic LARRIEU (Husqvarna) who ended the day with the runner-up result. Favouring the rugged Finnish terrain, Sweden's Oliver NELSON (KTM) recorded his debut EJ podium with third and pushedJamie MCCANNEY (GB-Husqvarna) back to fourth. Struggling to find his winning form from Greece, Italy's Giacomo REDONDI (Beta) rounded out the top five.
Finally claiming his first victory since the 2013 season ending GP of France, Sweden's Albin ELOWSON (Husqvarna) placed an impressive 67 seconds clear of runner-up Davide SORECA (I-Yamaha) in the 125 Youth Cup. Finishing eight seconds behind SORECA, Italy's Matteo BRESOLIN (KTM) was third. Sweden's Jesper BORJESSON (Husqvarna) and Jeremy MIROIR (F-Yamaha)placed fourth and fifth.
In the Women's category Spain's Laia SANZ (Honda) eased her way to a commanding victory. Britain's Jane DANIELS (Husqvarna) placed as runner-up to SANZ albeit finishing nearly two minutes behind the Spaniard. Sweden's Emelie KARLSSON (Yamaha) capitalised on a big mistake from Jessica GARDINER (AUS-Sherco) to take third.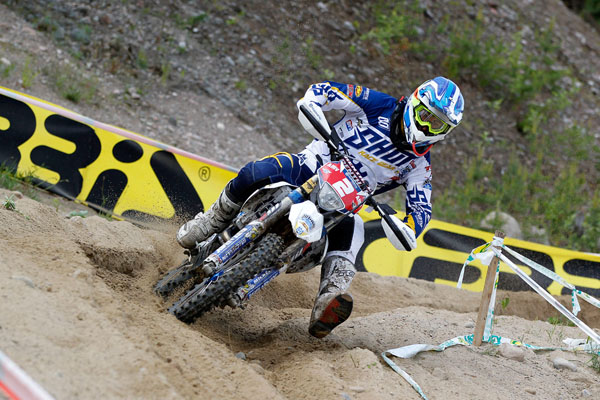 Source, report and photos are the  courtesy of http://www.enduro-abc.com/