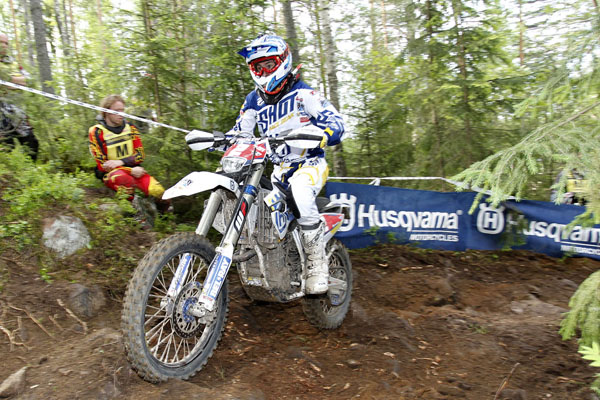 Pela RENET (Husqvarna) and Matt PHILLIPS (KTM) made it two wins from two starts with victory in their respective classes on day two at round four of the FIM Maxxis Enduro World Championship GP of Finland in Heinola. With tight racing across all classes the rugged and rocky Finnish terrain pushed the competitors of the EWC their maximum. With RENET and PHILLIPSwinning the Enduro 2 and Enduro 3 categories, Christophe NAMBOTIN (KTM) returned to the top of the Enduro 1 class while Danny MCCANNEY (Beta) hung on to win the Enduro Junior classification.  Laia SANZ (Honda) was best of the Women's Cup and Albin ELOWSON (Husqvarna) led home the 125 Youth Cup for the second day in a row.
Firmly squashing Eero REME's hopes of a double home win in Heinola, France's Christophe NAMBOTIN (KTM) claimed the Enduro 1 class win on day two. Capitalising on a crash by REMESon the opening enduro test, NAMBOTIN took control of the race lead and was never headed. "It's fantastic to get back on the top step of the podium," told NAMBOTIN. "Yesterday I made too many mistakes, today was much better." A big mistake on lap one from REMES knocked the Finn off his rhythm and handed the lead to NAMBOTIN. Unable to regroup, the TM rider was forced to settle for second place. In the fight for the final step of the podium, Spain's Cristobal GUERRERO (KTM)held off France's Jeremy TARROUX (Sherco) by three seconds to take third. With TARROUXfourth, France's Anthony BOISSIERE ensured a successful end to the GP of Finland for Sherco by placing fifth.
Making it two wins from two starts in the Enduro 2 category, France's Pela RENET took the victory on day two. But the Husqvarna rider didn't have an easy time of things. Challenged by a highly motivated Johnny AUBERT (F), the Beta rider looked on course to take his first win of the season until a crash on the penultimate special test allowed RENET to sneak through for the win. "Johnnywas riding really strong and I didn't have an answer for him this morning," admitted RENET. "But in the afternoon I found some more speed and clawed the time back to win. I'm really happy for this victory." With AUBERT dropping back to second on the final lap, Italy's Alex SALVINI (Honda)ended his day 31 seconds behind AUBERT in third. The battle for the final top five positions was a Spanish affair with Beta's Oriol MENA holding off an attack by Jonathan BARRAGAN (Husqvarna)to take fourth. Continuing to adapt well to EWC life by recording his debut special test win,BARRAGAN finished six seconds behind MENA in fifth.
Fastest out of the traps, Australia's Matt PHILLIPS (KTM) blitzed the first five special tests to take an early lead in the Enduro 3classification. Opening up a 22-second cushion over Ivan CERVANTES (S-KTM) in second place,PHILLIPS controlled the race lead to secure his third consecutive victory. "I'm delighted to take three wins on the bounce," commented PHILLIPS. "Today went better than I expected. I attacked hard from the beginning to build up a lead and then made sure I rode steady in the afternoon to win." Despite struggling in the rocky terrain with an injured ankle, CERVANTES delivered another solid ride to finish second and kept his championship lead intact. Spurred on by topping three of the final five tests, France's Mathias BELLINO (Husqvarna)returned to the podium with third.  Matti SEISTOLA's hopes of another podium result at his home race took a dent when he crashed on the second cross test. The Sherco rider recovered to finish fourth. Securing yet another top five result, Portugal's Luis CORREIA (Beta) ended his race in fifth.
In the Enduro Junior class, the fight for victory went right down to the wire between Beta's Danny MCCANNEY (GB) and Husqvarna mounted Loic LARRIEU (F). Edging out LARRIEU by just half a second, MCCANNEY secured a nail-biting win. Continuing to impress in the rugged Finnish terrain, Sweden's Oliver NELSON (KTM) claimed three special test wins to take a well-deserved third. Italy's Giacomo REDONDI (Beta) was fourth while Tommy SJOSTROM (SWE-Gas Gas) recorded his best result of the series with fifth. Sweden's Albin ELOWSON (Husqvarna) continued to lead the way in the 125 Youth Cup class and claimed his second win of the weekend. Helped in part by the early retirement of championship leader Davide SORECA (I-Yamaha), Matteo BRESOLIN (I-KTM) placed second with Josep GARCIA (S-Husqvarna) recording his first ever EWC podium in third. Jesper BORJESSON (SWE-Husqvarna) and Benjamin HERRERA (CHL-TM) completed the top five.
Topping the Women's Cup for the second day in a row, Spain's Laia SANZ (Honda) left the GP of Finland with maximum points. Placing as runner-up to SANZ – but this time reducing the deficit to her rival – Britain's Jane DANIELS (Husqvarna) finished just over one minute behind. Making amends for her previous day's misfortune, Australia's Jessica GARDINER (Sherco) claimed the final step of the podium.
The FIM Enduro World Championship continues with the GP of Sweden in Enköping on June 14/15.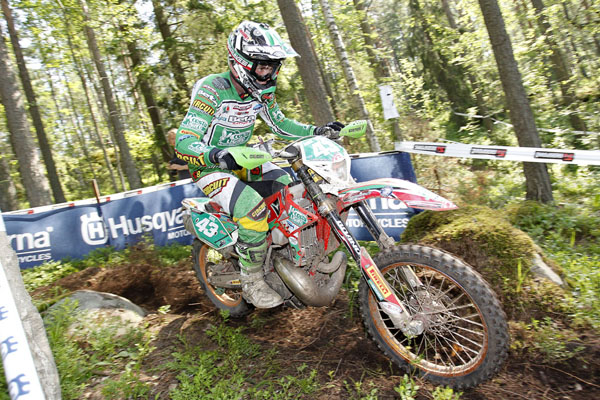 Source, report and photos are the courtesy of http://www.enduro-abc.com/