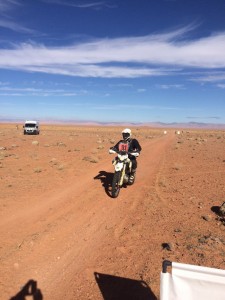 Eggs and rock spring to mind today . It is hot and on total contrast to yesterday the sand was replaced by rock rock and more rock .
Starting with part of the legendary 98 Dakar stage , running up the boudnib tabletop and finishing at the oasis of aoufuss the navigation was not easy with many directional changes and off piste tracks . Sure and steady was the name of the game for all but the top riders who seem to have inbuilt GPS .
Brian and Vincent finished the day well without problem and have yesterday's penalties reversed so they are sure to move up the order tonight.
Brian ' brilliant that was , just like Donegal only hotter . The rocks were brilliant but some of them eegits have no idea how to ride rocky hills . Great day '
Vincent ' steady day and them goggles are great ! Now I can see the rocks . Got lost a bit but no issues '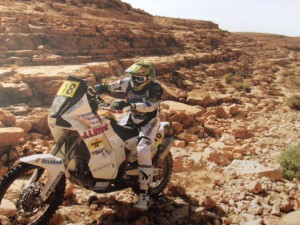 Tomorrow is back to the sand with the start of the marathon stages and the bivouac.
Ps Brian … The Americans got 15 speeding.Penalties so we await the results.