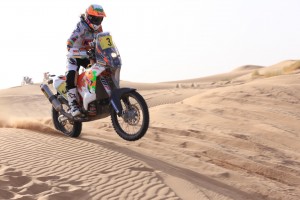 Following last evenings prologue , a 1 km dash across the dunes the rallye started in earnest this morning st 715 . Typical for this rallye the first days route took the riders across the chebbi erg north South to cp2 for the experts with a further south north crossing for the pro class.
Not long in distance but challenging for all.
There are no results at this time but Brian and Vincent aquitted themselves well reaching cp2 without undue problems or navigational errors.
Brian was out first and back first but the gap with Vincent remained very constant …. The race is on !
Brian :' I found that quite tiring and the sand soft , I fell a few times near the end and that drained me … I am at my limit . No problems … How far is Vincent behind ? '
Vincent ' Erra no problem
With that . I enjoyed the dunes and found them and the navigation straight forward …. I had a big off near the end somersaulting over a dune when the front dug in . Otherwise great …. Is Brian gone long ? '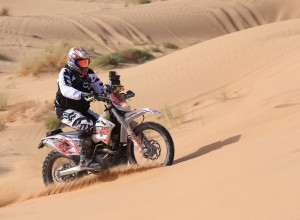 Friendly banter for this evening .
We stayed some time today between the 2 erg crossings to watch the top pro riders … It is a real eye opener to see the speed they are travelling whilst navigating at the same time . Flat out is an understatement . Impressive …… Lyra Saints , on the pace of all her fellow top riders , looking at ease . Some lady.
Enduro.ie