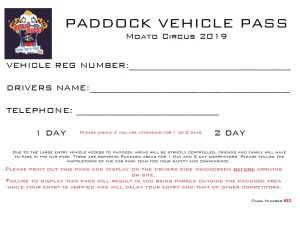 PARKING NOTICE
From previous experience, parking at Moato Circus is one of the most difficult tasks.
It is necessary to park a very large number of vehicles whilst keeping access roads and driveways clear. Space availability is limited.
Many participants stay for the entirety of the weekend, others only for a specific day .
For 2019 there is the added detail of the grasstrack on Friday afternoon and the Long X road crossings on Saturday.
There will be professional parking attendants who will endeavour to make access as seamless and space saving as possible.
To assist please note the following
Access will open at 1.00 PM on Friday to 4.00 PM , reopening after the G track.
Access on Saturday may be restricted between 1015 and 330 due to road crossings.
As advised, there are 2 competitor parking areas , the main Paddock ( A Red) and grasstrack/ overflow ( B Blue) . Cars will be parked outside the paddock.
Paddock A is for those staying for the 2 days sat/ Sunday  provided there is space.
There is a parking notice to be put in your vehicle … please print and designate, this will help speed the process.
Paddock A will be parked in rows, forward facing starting at the front Left corner. Each row will be filled before a second row is started, working from front to back. If you want to park together, please arrive together. It is not practical to park you exactly where you may want; to facilitate vehicles we have to work to a system. There is a separate area for Larger trucks.
Emergency , Ambulance access form part of the parking plan , please assist the club by understanding the restrictions we are working to.
Upload Your Parking Pass here :
Fastlane MCC
Enduro.ie