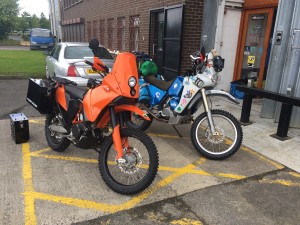 ---
400 kg of muscle !
The cakes have been in the oven for a considerable period of time, now they have come out cooked and ready and have been put on the table.
My and Mick's bike have been shipped to London for onward transport to Knoxville. Damian at Teds trucking kindly took the beasts to JAMES cargo near Heathrow to be packed, certified and shipped. Done, gone, phew.
It really is strange that hard as we all try it nearly always comes to a last minute last gasp panic to get everything together.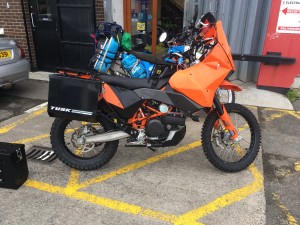 Tusk panniers +
Mick has been quietly working away hidden from view fitting panniers , a front cowl and panel , rewiring the switchgear , chains , sprockets , filters etc etc only to find on the last evening that the clutch was slipping on a test ride. Not a lot but enough even though all tolerances are within limits. Oil ?  Plates ordered and will be fitted if needed the other side of the pond. Being a KTM the panniers are standard and available and Mick has managed to stuff all the gear inside with a front tank bag and a small rear bag to be added. For sure it will not move. On the scales it weighs 215 kg dry.
The 404 I rebuilt after the head staggers last month,  repainted ( as I did not like the colour) packed everything and went to Enniskillen to Brian McGirr for a test run and GPS training . The first bit was OK ( more later on that ) the training I failed miserably on. Brian, broken hip and leg strapped to the scooter by duct tape had laid out a route and simulations to follow.  Proper job. Saturday evening went OK and I learned a lot ( if I can remember it ) Sunday was a 230 km route through Fermanagh and Donegal . Great for the first 100 k then I met a closed gate ( meant to be open ) somewhere in the bog lands near Pettigo ; try as I could and using what Brian had shown me I could not find my way back on route. Round and round , up and down I went to find the route finally returning to Pettigo and a phone signal  to call Brian. " go back to the gate,  turn right and follow the road down " was the instruction. " done that " I said and it's a dead end "  " no it's not " was the retort. Later when I eventually returned we discovered it was a dead end but there was another track not detailed on my GPS map but on Brian's. Either way the detail learned will be invaluable …. thanks Brian … . Can you stay on the end of  a phone ? Lost in Donegal, fine chance America.
Back on the bike heading south  it's lashing rain, miserable to be factual when pop pop pop started again. The same fuel / pump issue ..which I was sure was sorted .. what the f…….Just covered nearly 400 miles and it was perfect .. now its pop pop popping again. Limped home, put the bike in the shed and closed the door. Out of ideas, no one seemed to have an answer as to why it overfuelled or air locked. Everything was new, pump, taps, piping, connectors and its returned back to the tanks … mystery.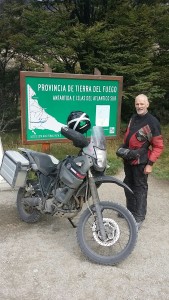 Top man Brendan
Brendan Rooney is an unsung expert on fluid dynamics, he is also an expert motorcyclist , recently completing a 25000 mile trip from New York to Brazil and back through South America . Now he is back I can bounce the problem to him . I did . Two nights later Brendan arrives at the house …. take that pipe from there , put it there , tee it off there , block that .   did . Job sorted in 30 seconds . Down the road flat out … perfect . Why it works neither myself or the rest of us know , Brendan did try to explain but it remains that  mystery . Top man Brendan … thanks . That is a big hurdle crossed .  Mine 195 kg with 6 l fuel.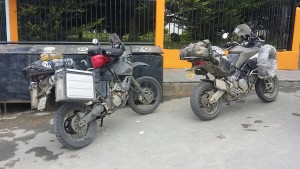 25000 miles in a America . Brendan or bike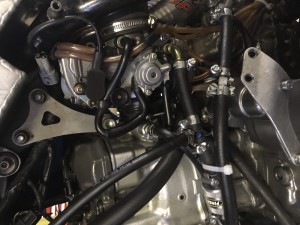 The offending spaghetti
Simon breezed in from London to see how we are getting on . " Hope you guys are ready and have everything packed "  we are and we have . " are you ready " . ?   " well I have a set of saddle bags , you have the rest so what do I need , sure I'll carry the food "    Not a spanner , tool or anything in sight … good on you Simon you have it Sussed …. fair play . Somehow me thinks Mick and myself will be offloading some goodies to a drz 400 or we leave him to eat raw weeds , fix punctures with his teeth and follow the sun . Not getting away that lightly.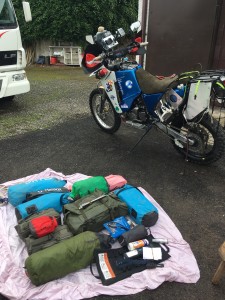 All this on there ?      

The 29 will now be fast approaching when we take to the skies to ( hopefully) join with the bikes in Knoxville . From there is a 500 mile ( have to think in miles now ) jaunt back east to Charleston and the Atlantic Ocean , returning that 500 miles off road back to jellico in Tennessee to where Sam started the tat trail . We want to go ocean to ocean . We will sure try.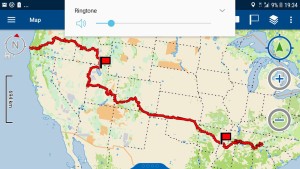 Jellico to oragon + 1000 m to coast
A twitter account has been set up for us @ irishtatteam and we hope to be able to download to it from the In reach repeater . Let the journey begin …..
Thanks to everyone for their help and encouragement.
Enduro.ie